By Charles Giuliano
Strict beauty: prints by Sol LeWitt is an irresistible opportunity to immerse yourself in an important aspect of the artist's work
Strict beauty: prints by Sol LeWittat the Williams College Museum of Art, Williamstown, until June 11.
"In conceptual art, the idea or concept is the most important aspect of the work. When an artist uses a conceptual art form, it means that all the planning and decisions are made in advance and the execution is a superficial affair. The idea becomes a machine that makes art" Sol LeWitt, writing in Art forum in 1967.
Sol LeWitt (1928-2007) is considered by critics as one of the most innovative abstract/conceptual artists of his generation. He died a few months before the opening of a retrospective of 105 large wall drawings in December 2007. They were created by technicians according to his instructions. The works now occupy a three-story building on the MASS MoCA campus where they will be exhibited for twenty-five years. Recently, some works have been refreshed.
Some of LeWitt's smaller wall drawings were intended to be temporary, but many museums have chosen to make them permanent, most recently the Williams College Museum of Art. Strict beauty: prints by Sol LeWitt is an essential opportunity to immerse yourself in this aspect of the artist's work. Examining the drawings on a more intimate scale will give you a foundation, a helpful perspective, that will help appreciate the range of LeWitt's singular and daunting work that can be seen, greatly expanded, on the MASS MoCA campus.
LeWitt was a prolific engraver, generating some 350 projects in editions containing thousands of impressions. This interest began at Syracuse University, where he took a course in lithography three times. He then explored many media including serigraphy, etching, aquatint, woodcut and linocut. The WCMA exhibit is made up of individual sheets and series of prints, displaying a total of over 200 individual prints. Curated by David S. Areford, professor of art history at the University of Massachusetts Boston, this is the most comprehensive study of LeWitt's prints to date. Areford organized the work by themes: "Lines, Circles and Grids", "Stripes and Colors", "Geometric Figures in Complex Shapes", and "Wavy, Curvy, Loopy Doopy and in All Directions".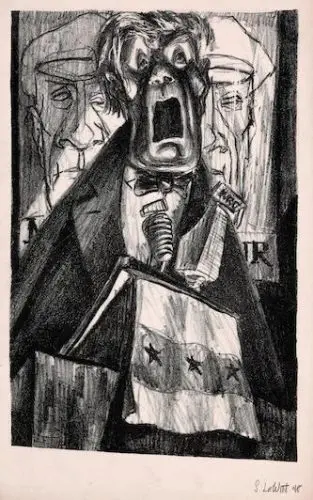 Early works express the social realist and regionalist styles of the late 1940s. After graduating, LeWitt needed work. He had little time to make art. In 1970 he began printmaking with Crown Point Press, then collaborated with other printers and technicians. Sometimes he worked directly on plates or had his drawings and designs transferred to printed media. At first, these prints were created according to his specific instructions – "the idea becomes a machine that creates art". LeWitt's plans for his prints, to which museums and collectors own the rights, have been compared to musical scores. But the manufacturers do not have the latitude of the drivers. Note the emphasis on automation. Yet Areford "protests too much" when he feels it is essential to convey, in excruciating detail, the precise program, instructions and technical intent of each print on display. This approach bypasses the study of iconography in art history, which was dedicated to explaining the meaning of each symbolism in a work of art. There is, however, no meaning in LeWitt's non-objective works. Some images, especially when boldly geometric, stridently graphic, or brightly colored, were meant to have an immediate and visceral impact. More opaque images are more difficult to connect.
When LeWitt abandoned his youth of figuration, he did not go through abstraction, but progressed to non-objective art. Pioneering artists, Picasso, Duchamp and Mondrian evolved from representation to an abstract view of nature. Jackson Pollock said "I am nature". By the time of LeWitt's generation, artists bypassed these intermediate steps.
In a sense, it started with the Suprematism by Kasimir Malevich. In general, minimalism (the term was never used by artists) questioned the sanctity of handmade objects, the role of the art market, the power of empathy, and conventions traditional aesthetic appreciation. These ideas have become second nature to today's students, emerging from increasingly academic fine arts programs. [For additional background, consult Areford's in-depth catalog for the exhibition, co-published by the New Britain Museum of American Art, Williams College Museum of Art, and Yale University Press. Also recommended: the dissection of LeWitt and his aesthetic by Kenneth Baker in his seminal 1988 book Minimalism, which is particularly good on the artist's architectonic structures.]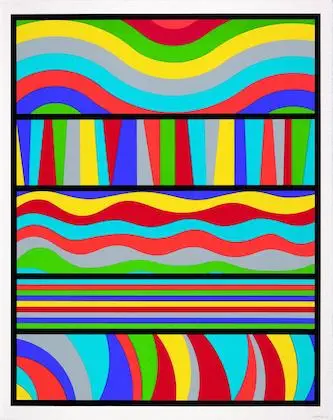 There are basically two ways to approach WCMA exposure. One can read each wall tag and study the images or walk through the exhibit to make it a captivating visual experience.
Living near the museum, I liked to indulge in both approaches. For the first visit, I focused on moving from the general to the specific. I read the catalog, then I went back to read the labels before studying each print individually. The greatest joy of this exhibition is that it gives you the opportunity to follow the thought process of the artist (so to speak), the point, the line, the square. There are a multitude of enriching approaches. Another narrative arc: passing from the first hesitant, groping works, to the last, always more passionately explosive and complex.
An interesting mid-term work by LeWitt is "Shul Print (Six Pointed Star)" from 2005. It acknowledges his Judaism (he helped design his local temple) while also alluding to the small colored squares in the late painting Mondrian's "Broadway Boogie Woogie" (1942).
In the last gallery, a large wall displays "Brushstrokes in Different Colors in Two Dimensions", 1993. They resemble the vertical stripes of Morris Louis. The same strange energy can be found in "Wavy Lines (gray) and Wavy Lines (color)", 1995. The latter could be a meditation on the futurism of Gino Severini and Giacomo Balla.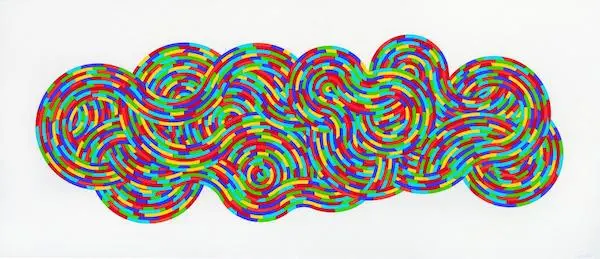 I plan to visit the exhibition again with a poet friend. I hope that together, with lots of fun, we can unpack the enigma of Sol LeWitt.
---
Charles Julien published his seventh book, Museum of Fine Arts, Boston: 1970 to 2020 an oral history. He publishes and edits Berkshire Fine Arts.