Iyouit's not technically fall yet, but the kids are back in school, there are orange frosted pumpkin sugar cookies at Kroger, Bass Pro Shops are already almost done with its classic fall hunt sale, and i feel like starting recording horror movies on your spooky, wicked old DVR. Fall is in the air, even if it's not on the calendar yet, and the events on the first Saturday in September feel like a reset after a really great summer art season.
Wedgewood-Houston
No September show speaks as directly to the transition from summer to fall as Carlyle Wolfe Leeit is Golden exposure to David Lusk Gallery. Lee's pictorial practice has always found inspiration in natural forms, hues and textures. And GoldenThe drawings, watercolors on paper and painted panels combine saturated colors and diffused light to capture those moments when the long, hot summer gives way to the harvest season. David Lusk will hold his usual hours this Saturday from 10 a.m. to 5 p.m.
The spirit of the times comes out of it sailors and Continue to dream shows. On their surface, sailors' the excavations of Moby-Dick and Continue to dreamThe high and low sends of art may seem unrelated. But both shows are collaborations created by collections of artists in service of broad cultural explorations across disciplines, genres and history. For September, Zeitgeist is back to its old trick of displaying side-by-side solo exhibits at its sprawling Wedgewood-Houston location. This pair is another example of shows that seem opposite, but these two fit together like a pair of tarnished, dirty spoons. Alena MehivsThe highly watchable paintings of offer architecturally-illuminated post-socialist cultural landscapes and political photographs to capture the political memory of the former Yugoslavia. Dark humor is clever and funny, but I'm mostly talking about these paintings for themselves. David Pineros' Cap takes its name from the artist's forthcoming book on candid street portraits. The show features 10 black and white photographs that capture the dark delights of nightlife among diverse subculture scenes right here in Nashville. The gallery is open from 10 a.m. to 6 p.m. this Saturday.
Unshared hobbiesThe excellent summer run of included the visceral installation of video art and sculpture by Raheleh Filsoofi, Artifactand the hauntingly hilarious Sarah Lasley dirty dance tribute video, How I choose to spend the rest of my birth years. The gallery's September exhibition, Mediation, includes a combination of videos in a conversation about history and ritual in spiritual practices, and how these are documented, distorted, expanded and experienced by and through new media technologies. Mediation includes contributions from a Nashville native, artist, and educator Maria Moltenias good as Vidya Girl, whose art explores the overlap of his Indian heritage and the culture of his home base in Houston. The gallery will host a vernissage on Saturday from 5 p.m. to 8 p.m.
Cooperative Gallery opens Infinite Views: Matthew Willie Garcia Saturday night. Garcia's prints shimmer with cosmic colors and swirl in galactic gestures, exploring our universe from quantum quarks to big bang and back again – these remind me of the vintage art of the great John Buscema Silver Surfer comics. Garcia will be on hand for Saturday's opening and will take advantage of Coop's recent large space at The Packing Plant to teach gallery visitors a bit of knowledge with a demonstration of his Japanese woodblock printing techniques. The gallery will host an epic reception from 1 p.m. to 9 p.m., and Garcia's demonstration is scheduled to begin at 3 p.m.
Margaret TimbrellThe conceptual needlework of combines traditional imagery with satirical messages to send capitalist ideals into homemade displays from the heart of consumerist dystopia. Timbrell's meticulous creations include all the fluffy birds, cuddly creatures, flowers and plants you can find on the discarded needlework of your local thrift store. But then she adds texts like "Head of Demand Generation" or "CEO of Failure Management" to create works that are as cheeky as they are critical. Open will host a reception for his work from 6-9 p.m. on Saturday evening.
local designer Ana Carolina Monnaco brings his abstract paintings to modfellows' The Wedgewood-Houston outpost at The Packing Plant in September. Mönnaco's eponymous exhibition is another September exhibition inspired by the cycles of the natural world, with multimedia paintings flourishing with flowery palettes and vigorous marks.
East of Nashville
On the east side, Red Arrow Gallery opens Aaron Worleyit is Your arm on my shoulder with a reception on Saturday evening from 6 to 9 p.m. This exhibition of colorful action paintings is Worley's first solo exhibition at the gallery.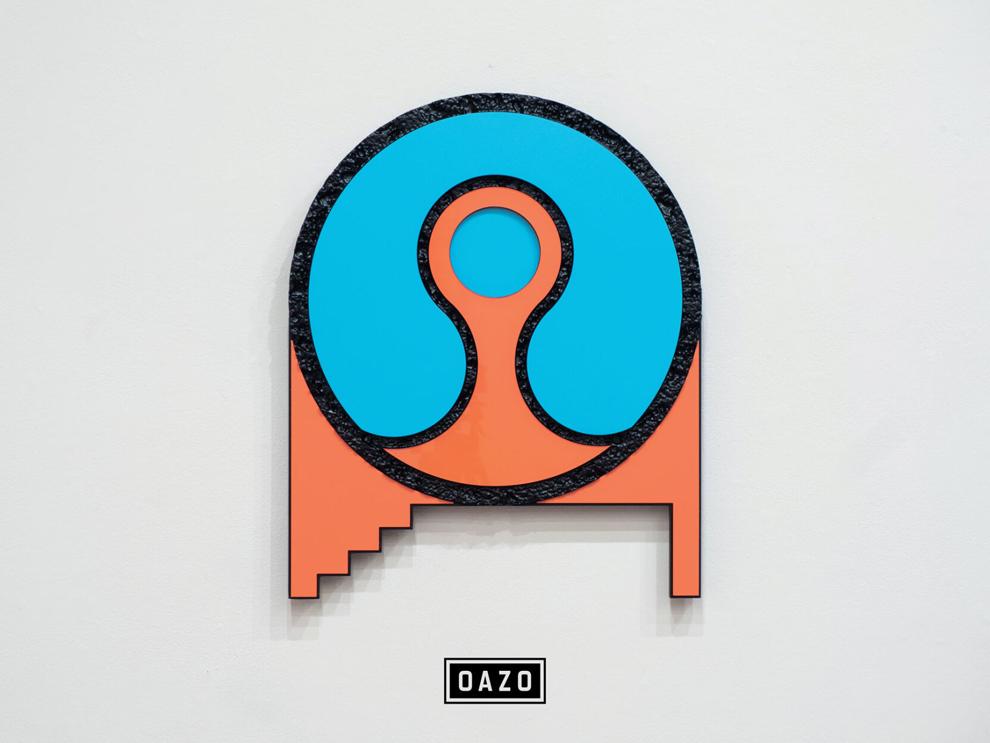 Downtown
Contemporary Tinney gallery manager Joshua Edward Bennett will have its turn on the walls in September. Bennett's personal exhibition, Oazo, open Aug. 27, and Tinney will host an opening reception for the show this Saturday from 2-8 p.m. According to his website, Bennett has done at least two other iterations of shows titled Oazo: a 2016 exhibition of black and yellow paintings and sculptures at the Good Children Gallery in New Orleans, and Bennett's Master of Fine Arts thesis exhibition in 2019 at the Carroll Gallery at the University of Tulane. Oazo means "oasis" in the Esperanto language – an auxiliary language intended to facilitate international communications, constructed by Polish ophthalmologist LL Zamenhof in 1887. Zamenhof blended Indo-European vocabulary, syntax and semantics with additional vocabulary from the languages Romance, contributions from Germanic languages, and influences from Slavic grammar and phonology to create the most widely spoken constructed language in the world. Bennett mixes a similar gumbo of elements with this latest version of Oazomixing objects, design, text, sound, smell and light to create a ritual space charged with ambiguity, both utopia and mirage.