It doesn't take millions to amass an impressive art collection, but it certainly helps. But if you didn't inherit a trust fund, a little dedication can go a long way. These young collectors don't consider themselves full-time gallerists or experts, but they fell in love with the art unabashedly, and now they're hooked. With their walls filled with one-of-a-kind creations, or in Matthew Chevallard's case an extra cabinet, there's nothing stopping these voracious collectors from searching for their next masterpiece.
Observer sat down with five collecting enthusiasts to find out exactly how they got into the art world, their most notable pieces, and what they have in mind next.
Matthew Chevallard
Matthew Chevallard is the man behind the booming shoe brand DelToro, but in his spare time, his taste for modern art takes precedence over his shoe collection. It's a hobby initiated by his mother, an artist, and his father, a longtime collector.
"Growing up in Italy, art is inherent in the culture," Chevallard told Observer. By surrounding himself with people he calls "friends of Sotheby's"—including Senior Client Liaison David Rothschild, Marlborough Gallery Senior Director Max Levai—as well as a constant stream of art-centric news, it maintains an edited view of exactly what it is looking for.
Like any youngster in his twenties, he often turns to Instagram as a source of discovery, choosing to follow the sculptor and self-proclaimed "art worker." Maurizio Cattelan and abstract artist Marc Grotjahnboth of whom he considers legends.
In all, Chevallard has amassed hundreds of works and chooses to hang them on any free wall in his office or home. The rest of his collection, around 150 pieces, remains in storage.
"Right now I love contemporary art and Arte Povera from Italy," he told Observer. He has "everything [Alighiero] Boetti and Mario Schifano to Katherine Bernhardt and Kaws. Recently, he added a mixed-media, neon-infused artwork commissioned by Thrush Holmes to his Miami-based collection, and hopes to add another by Matt McCormick in the coming months.
Beau Dunn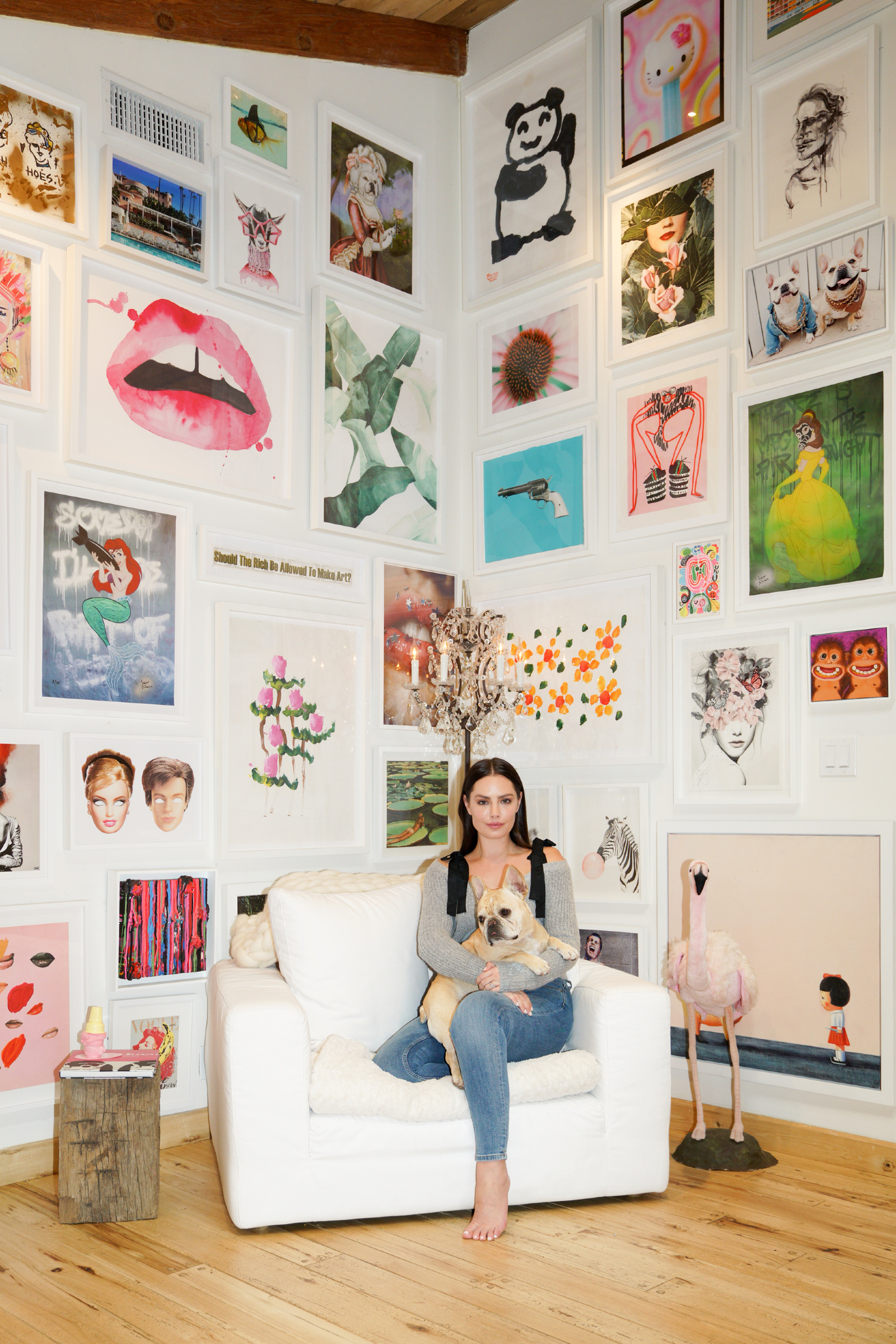 Artist/model/actress Beau Dunn has been immersed in the world of contemporary art since a young age.
"I grew up with parents who love collecting art and my collection started with pieces they gave me. One is a father and daughter portrait of Jorge Santos, and the other is a painting of a naked woman with a horse's head. It's too big to take off the wall to see who the back artist is," she told Observer. "The overall theme of my collection is revolves around pops of color, mostly pink, and pieces that make me happy when I see them."
With that in mind, her acquisitions aren't dictated by price, but simply by what catches her eye or who she surrounds herself with, in her hometown of Los Angeles, particularly the artists and industry insiders that Dunn accepted into his inner circle. Among his friends in the art world is Megan Mulrooney, Senior Contemporary Art Specialist at Paddle8, who helps Dunn shape his collection. "It's so nice to have a resource like Megan who loves art as much as I do. We exchange ideas and discuss investment opportunities," Dunn told the Observer.
Her significant investment pieces include a work by Niclas Castello, which she says is her current obsession. "He is one of Germany's leading contemporary artists, and I recently received a commissioned work from his 'Cube' series of sculptures," she said. In hues of neon pink, Dunn is pretty sure this acquisition, a painting on canvas crushed and confined in a clear acrylic case, will fit right into the home.
Next, she hopes to commission a custom pink painting from Retna, the acclaimed street artist and Dunn's personal friend. "I'm harassing him to do it!" she joked — along with her dream buy, Damien Hirst's "In Love," which aptly depicts a heart in — you guessed it — Dunn's favorite color.
So why pink? "I've always loved pink, and my husband jokes that it's his favorite color now too," Dunn said of his 13 esteemed pieces in the soft hue.
Jay Ezra Nayssan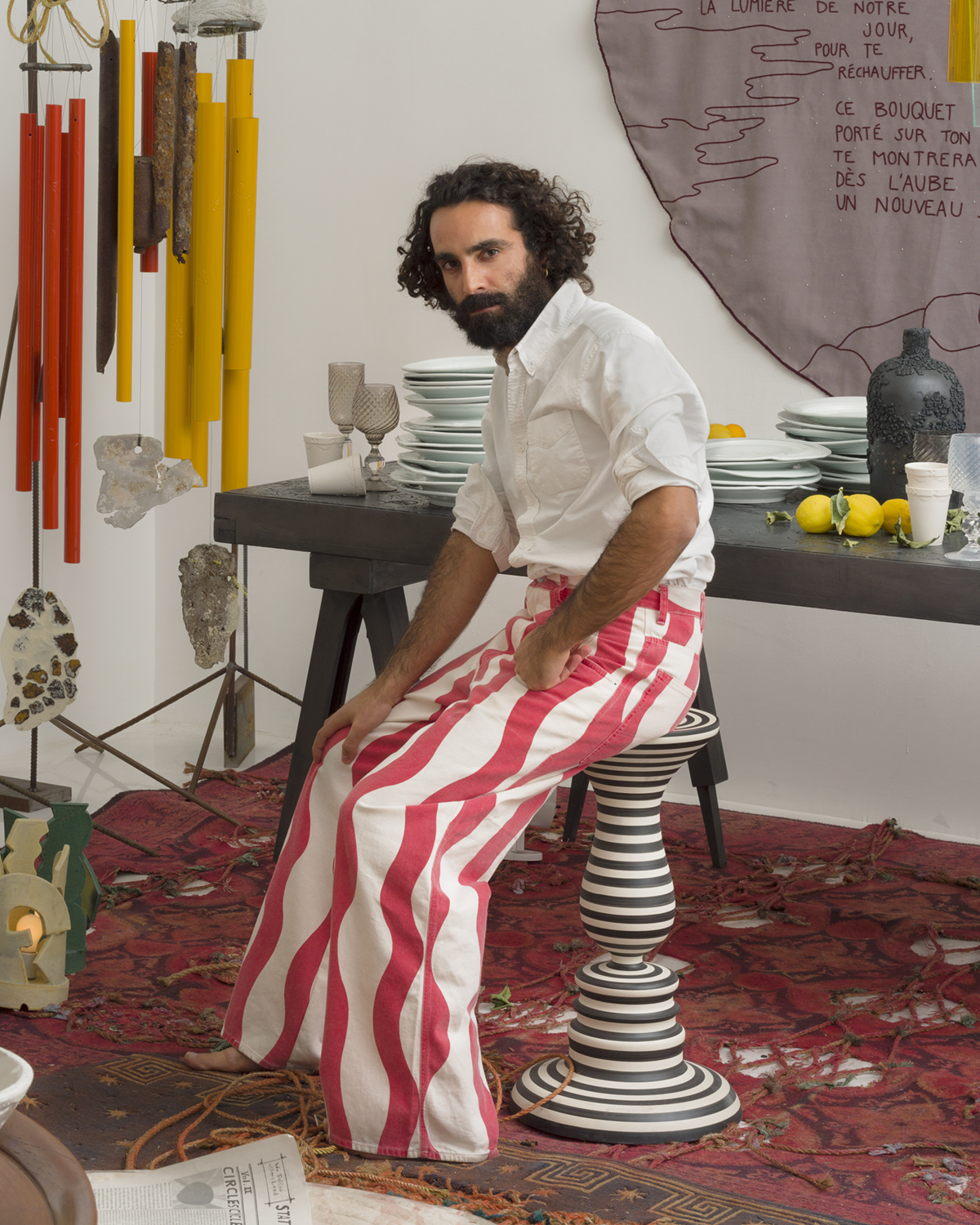 Construction Manager Jay Ezra Nayssan walks through job sites and art galleries seamlessly. Sometimes he even mixes the two, but only when the time is right. With properties completed and underway in Los Angeles and New York under his Nayssan Properties umbrella, he quickly became a patron and close confidant of more than a few modern artists. "I don't look to anyone for acquisition advice," he said evenly. But he trusts the aesthetics of his partner and hotelier-turned-gallerist Benjamin Trigano. "We share a lot of the same tastes," Nayssan told Observer.
Last January, the two opened together a showroom dedicated to applied arts called ANNEX, located in front of the Trigano gallery in Los Angeles, M+B. "We invited more than a hundred visual artists and asked them to create their first design objects. In a way, it's Benjamin and I's dream collection. Both have a fondness for objects that don't necessarily need to be hung on the wall and often serve a distinct function like creative forms of lighting, pottery and even cutlery. "In general, my interests lie between the two," Nayssan said. "I am fascinated by visual artists whose works approach design and interiors with candor and playfulness."
In Naysann's own home, this includes a palm tree lamp by Pentti Monkkonen made from poplar, green Waluminum and rechargeable, warped LED lights chairs by Jessi Reaves, a lightbox of scans assembled by Derya Akay resembling stained glass, planters by Natalie Jones adorned with blond and hybrid-oriental wigs carpet by Sophie Stone. All of this is in addition to more historic design pieces like Verner Panton's must-have heart chair and several lamps by Gaetano Pesce.
It's an ever-growing but pragmatic collection and one that Nayssan will likely add from his own ANNEX stash. "I can't help but think I'm going to keep some of these pieces for myself," he said slyly.
Jessica Bennett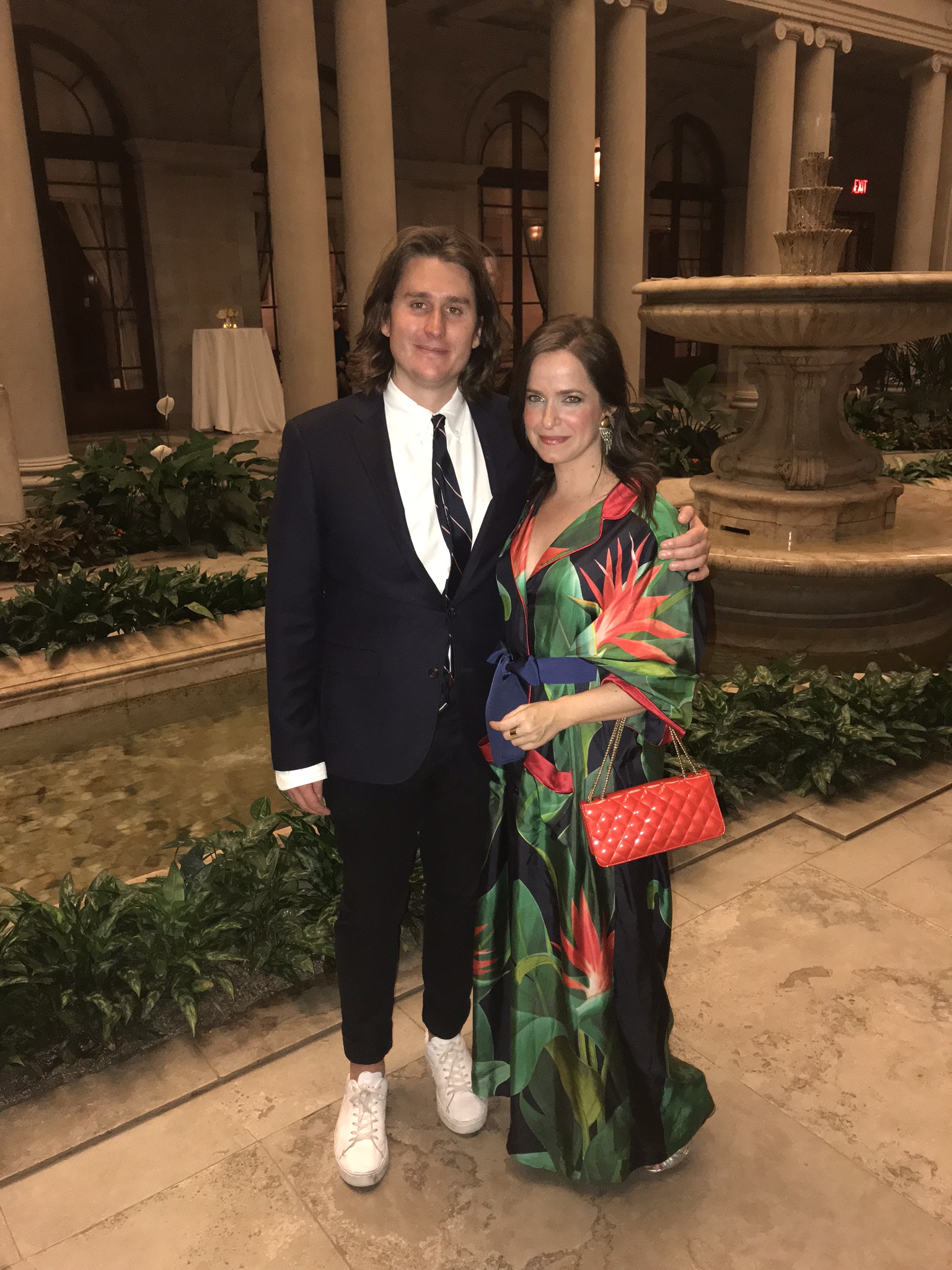 Looking at Jessica Bennett's art collection, it's easy to see that she has a thing for whimsical works, a quality you wouldn't expect from this former vice president and assistant general counsel for a New York private equity firm. But in fact, hanging on the walls of his Gramercy apartment is a minimalist geometric pattern by Will Cooke, a three-panel compilation of pomegranate seeds by Grace Johnson and, Bennett's personal favourite, an artwork by Robby Rose.
"Robby's piece, which we are so lucky to have in our apartment, is a special still life of a pillbox," she said. "It's a daily memory." Next, she hopes to nab one of Gemma Gené's mylar balloon paintings, which she loves for their "much-needed dose of levity and merriment."
"My acquisitions have gained momentum over the past year thanks to a dear friend in the business," she said, thanking Alexandra Porter, the social prop and sole proprietor behind the revered Alexandra Porter Advisory , for having discovered most of his pieces. Porter remains Bennett's voice of validation, whose appeal for each work is often bolstered by the experienced art adviser who regularly hosts salons in her apartment.
Bennett's emotional attraction to each of her purchases means there isn't much of a theme in her collection. So what is she really looking to buy? "Works that I cherish at first sight and know that I will cherish to be on my walls for years to come," she told Observer.
George Merck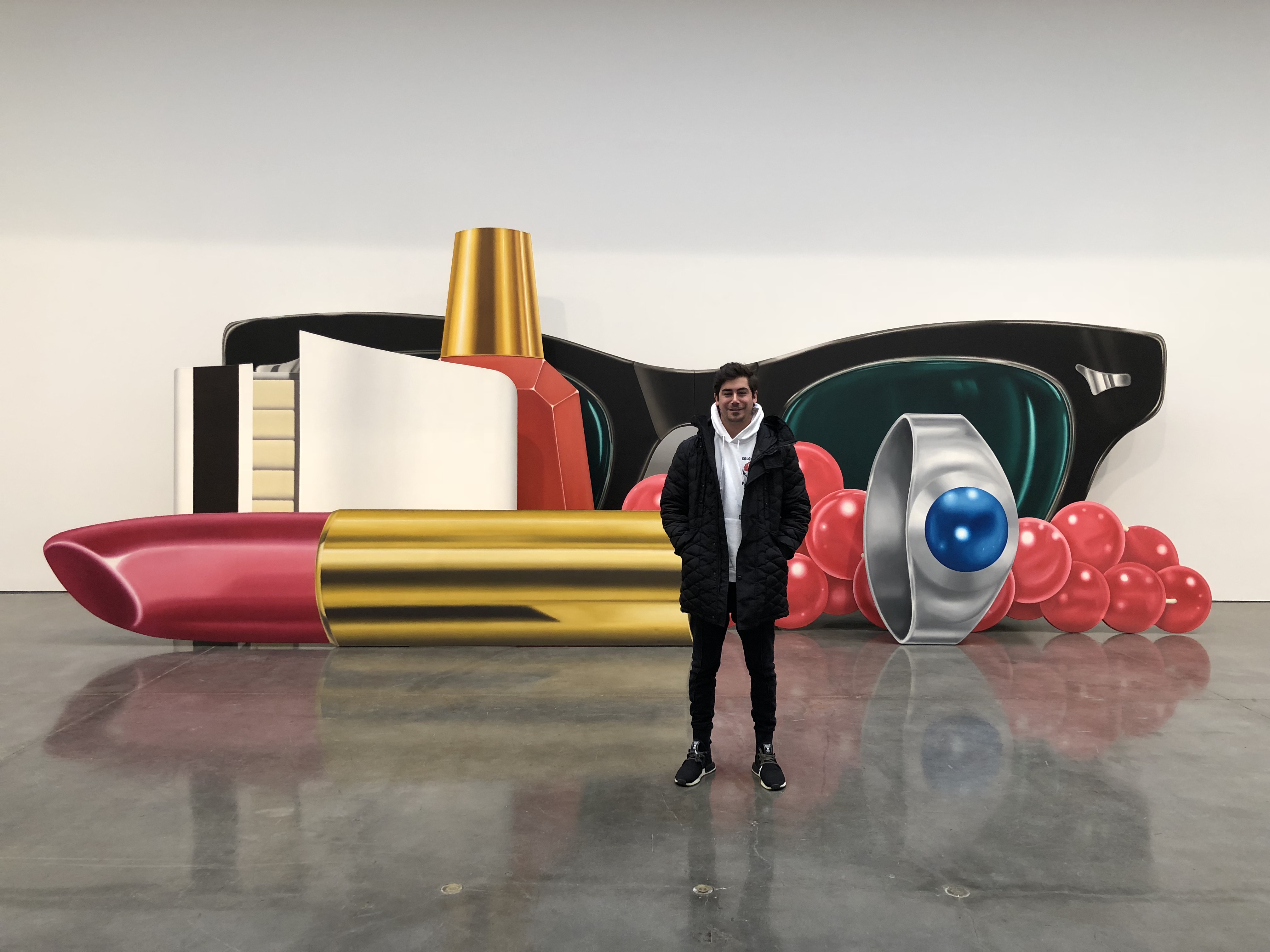 New York-based venture capitalist George Merck views his collection as an ever-changing treasure trove of rarities dictated by his changing tastes and the equally changing art market. In addition to his work as an investor, he serves on the board and two subcommittees of the Smithsonian's Archives of American Art, and has a love for art that dates back to his teenage years when he received a gift from his mother. "It's a set of Jim Dine hearts, and they will forever remain on my wall as one of my favorite pieces," Merck told Observer of the vibrant paintings created by the 83-year-old pop artist.
He then became interested in street art, attracted by its buzz and its relatively affordable price range, although several years later he admits that he especially fell in love with it. "I was first sucked into the world of street art, like many young collectors, and bought everything I could," he recalls. "Most of the pieces I acquired were shot for many reasons. Firstly, it's nice not to wake up every day with graffiti in your apartment. While Merck keeps a few pieces of street art , he developed a more established vision for his collection.
Like Chevallard, Merck has an appetite for Arte Povera and the neon-dominated Light and Space movement; works from both eras decorate the walls of his New York apartment. "I'm a really big fan of the living room-style pendant lamp," he said. "My apartment is where all my crown jewels hang. I like to surround myself with the pieces I love and rarely leave the wall space open. Sometimes the aesthetic of the room fits better in Amagansett in my dad's barn or at my mom's house in Palm Beach.I love my parents, but I have to admit that I keep the hardest work to myself.
With that in mind, Merck recently added a deceptive neon piece by Ivan Navarro titled "(The Void)" and "Cadmium Red," a saturated wood wall hanging. by Donald Judd established in 1968, although it plans to incorporate fewer blue chip names in future years. "One of my personal favorites in my collection is a Limit series work of Kasper Sonne, who is a very talented young Danish artist working in Greenpoint," he said. Sonne, known for his burnt canvases, is just one of many names shown to Merck by photographer Hunter Barnes, whom he considers his closest friend in the art world. Barnes motivated Merck not just to support artists by purchasing their work, but by getting to know them personally.
"I visited a good majority of the artists who created the work that I own," he told us. "I have other friends in the industry that I have less contact with, but we always have a good time when we see each other. Guys like Devin Troy Strother, Scott Campbell and recent acquaintance Mungo Thomson have all been really cool with me.