Newburgh Contemporary Art Gallery visitor center recently opened "In Between Dreams at Dusk", a solo exhibition of colorful works by embroidery artist Angelo Filomeno.
Born in Italy and now based in New York, Filomeno "creates seascapes of striking hues and their intricate topographies, to enchant and seduce the viewer with their constant shifting and shimmering light," according to the gallery's exhibition description. "In Between Dreams at Dusk" includes over 30 of the intricate embroidery works from her "Island" series along with a new selection of vibrant watercolors that form her "Icebergs" series.
Filomeno's work combines classical painting with traditional embroidery to form intricate, brightly colored works that incorporate luxurious materials such as shantung silk, crystals, onyx, chiffon and denim. The tactile richness of Filomeno's materials contrasts sharply with his often dark and disturbing subject matter – beasts, limbs, natural disasters. When viewed together, the works offer commentary on the climate crisis we all face.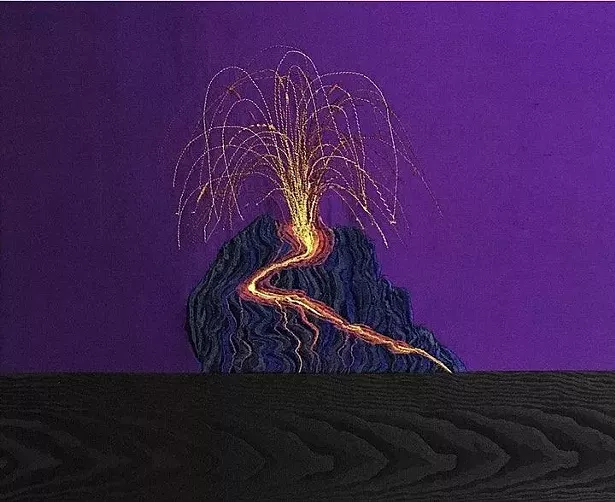 ✖I
Led by professional art consultant Eva Zanardi through her creative consulting firm Ezart Consulting NYC, Visitor Center "is dedicated to supporting artists in advancing their practices and careers through a supportive community and curated exhibitions." The 2,000 square foot gallery is located on the ground floor of Japanese clothing company Hysteric Glamor's American atelier on the city's historic Liberty Street.
Angelo Filomeno's 'In Between Dreams at Dusk' exhibition is on view at the Visitor Center Gallery in Newburgh until July 30. The visitor center is open on Fridays from 4 to 6 p.m. and Saturdays from 1 to 5 p.m.; Weekday visits are by appointment only. For more information.